Project Management Software can prove to be an excellent tool for project managers to manage their projects and resources. But with the digital space overflowing with hundreds of project management software, it can be a daunting task to choose the right one.
In this blog, we have compiled a list of top Project management software and highlighted their key features to help you find the right software for your team.
List of Project Management and Tools
1.Celoxis
Celoxis is an award-winning all-in-one project management software tool. It comes packed with good-to-great features not just for small and mid-sized businesses, but also for large enterprises. It's comprehensive features address the real-world complexities of managing projects across organizations and functions, it excels at planning, delegation, collaboration, tracking and reporting with great agility and user-friendliness.
Key Features:
Easily allocate resources to tasks based on availability, skill and demand.
It gives real-time visibility into budget spends, receivables and profitability across projects and portfolios
Includes an integrated timesheet and expense module to track time, costs and billing
Pricing: Starts at $25 month/user for SaaS and On-premise at $450/user.
2.Gantter

Gantter is a Gantt chart based Project Management software, it is ideal for an individual project manager while advanced collaboration features like real-time multi-party editing and Google Hangout integration are perfect for teams.
You can use it for project scheduling, project planning, data visualization, risk management, baselining, and more!
Gantter has an AI recommendation engine which suggests tasks, risks and resources for your project, based on data from other projects.
Key Features:
AI recommendation engine to enhance the user experience.
Built-in analytics for resource and tasks management.
Available in more than 23 languages.
Template sharing from previous projects.
Auto-generated WBS with real-time task and resource tracking.
Pricing: From $5 month/user with a 30-day free trial.
3.Avaza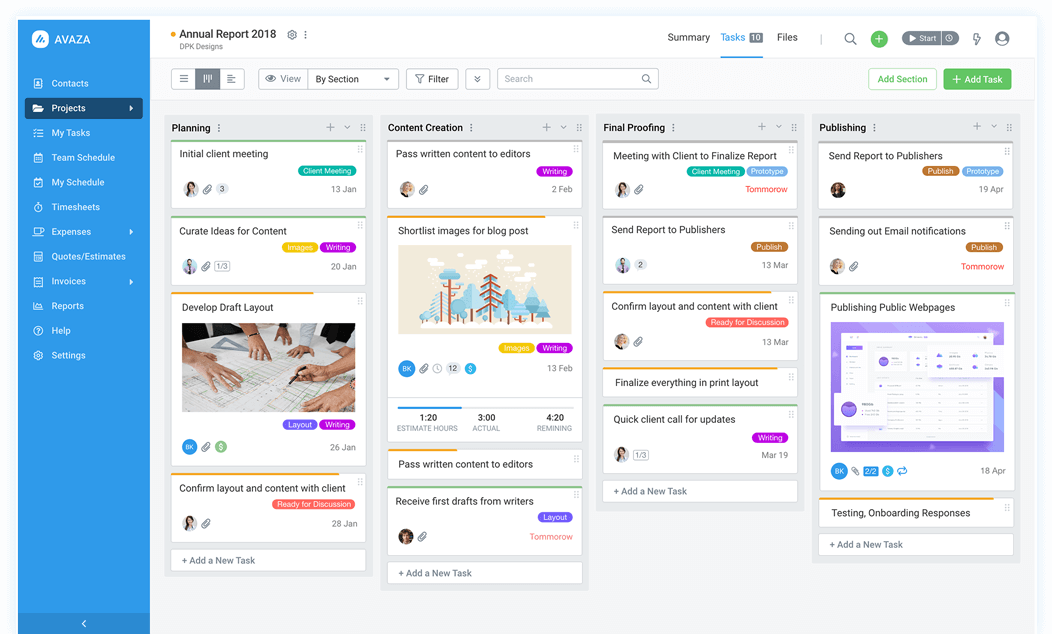 Avaza is a project management tool specially optimized for small business with modules for Project management, Collaboration, Time tracking, Expense management and Invoicing.
Each module can be used independently depending upon your project requirements. It's easy to use and free for a limited no of users.
Key Features:
Automatic reminders for unfinished tasks
Email enabled discussions around tasks
Reports and activity feeds
Project progress dashboards
Payment tracking and automatic payment allocation for online payments
Pricing: Starts at $9.95/month.
4.Flowlu
Flowlu is a cloud-based project management solution which gives you a seamless experience with its simple and easy to use interface.
With Flowlu you can track every aspect of your business, from time worked by your team to overall costs of your projects.
Key Features:
Easy to design and send professional invoices
Manage cash flow with comprehensive expense reports.
Involve teammates for a perfect collaboration
Create backlogs
Discussion boards
Pricing: Starts at $29/month with a free trial option.
5.Notion
Notion is a single workspace for notes, documents, tasks, data, and more. Companies and individuals alike can use it to stay organized, store knowledge, and manage projects.
Key Features:
Time & Expense Tracking
Customizable Templates>
Kanban Board
Pricing: Starts with $4/month for personal version and $8/ month for teams.
6.Quire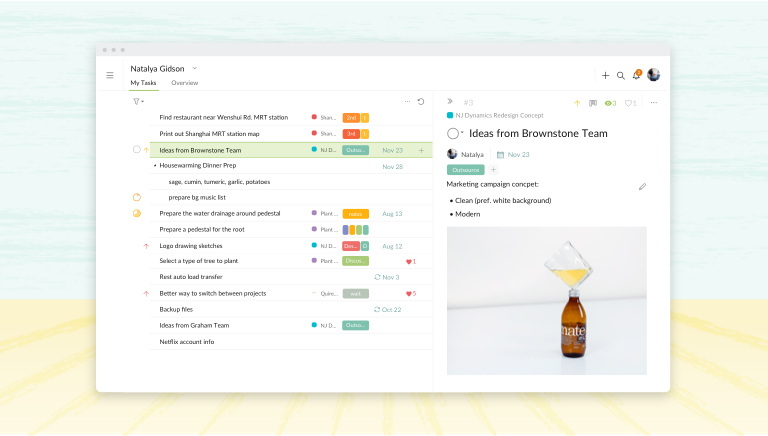 Quire is modern collaborative task management so which helps you in getting your projects done. Whether you're working on a team project, making an app or any other task, Quire makes it easy for you.
Key Features:
Tasks sharing with your colleagues.
Easily assign tasks to others.
Sort your tasks to see those with the same assignee, priority, etc., together
Follow tasks to get notified of any changes made to them automatically.
Visual overview to assess the project and team performance.
Pricing: Free up to 30 members and they will soon be announcing a paid version.
7.ActiveCollab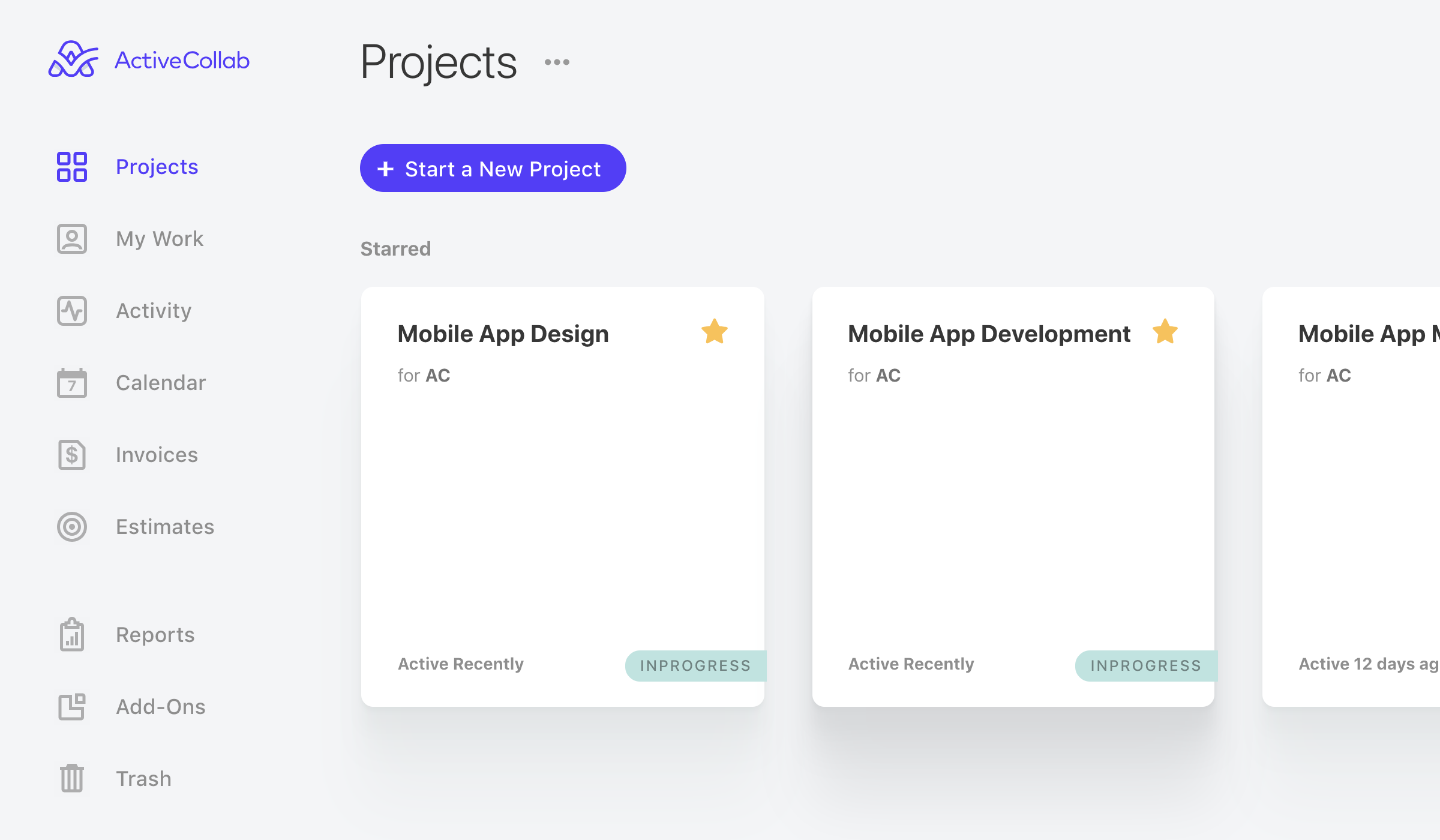 ActiveCollab is a project management tool that helps you manage your projects and tasks all in one place.
It has a simple and easy to use interface with features like task management, expense and time tracking with the integration of client estimates and invoicing built right into the app.
Key Features:
Creating tasks with multiple users and deadlines
Gantt-like timeline for planning
A shared team calendar for collaboration
Activity timeline for recent events
Pricing: Starts with $6.25/month for a single user.
8.Nutcache
Nutcache is a collaborative management tool that helps you plan, manage and track user activities for the entire project delivery lifecycle.
Key features:
Automatic time capture with offline time tracking.
Advanced expense tracking
Budget management
Cost to completion tracking
Kanban Board
Idea Management
Pricing: From $6 month/ user and $8.95 month/user for freelancers.
9.Kanbanchi
Kanbanchi for G Suite is the online project management software with Kanban Board, Gantt Chart and Time Tracker. Project boards with lists and cards visualise a workflow of all your tasks and activities. Collaborate with your team in real-time and manage your projects visually!
Key features:
Simple dashboard system to visualize your workflow
Highly customizable for your needs
Efficient project Collaboration
Kanbanchi is completely integrated with Google Apps and hosted on Google Cloud Platform.
Pricing: Starts with $7.95 month/user
10.TeamDeck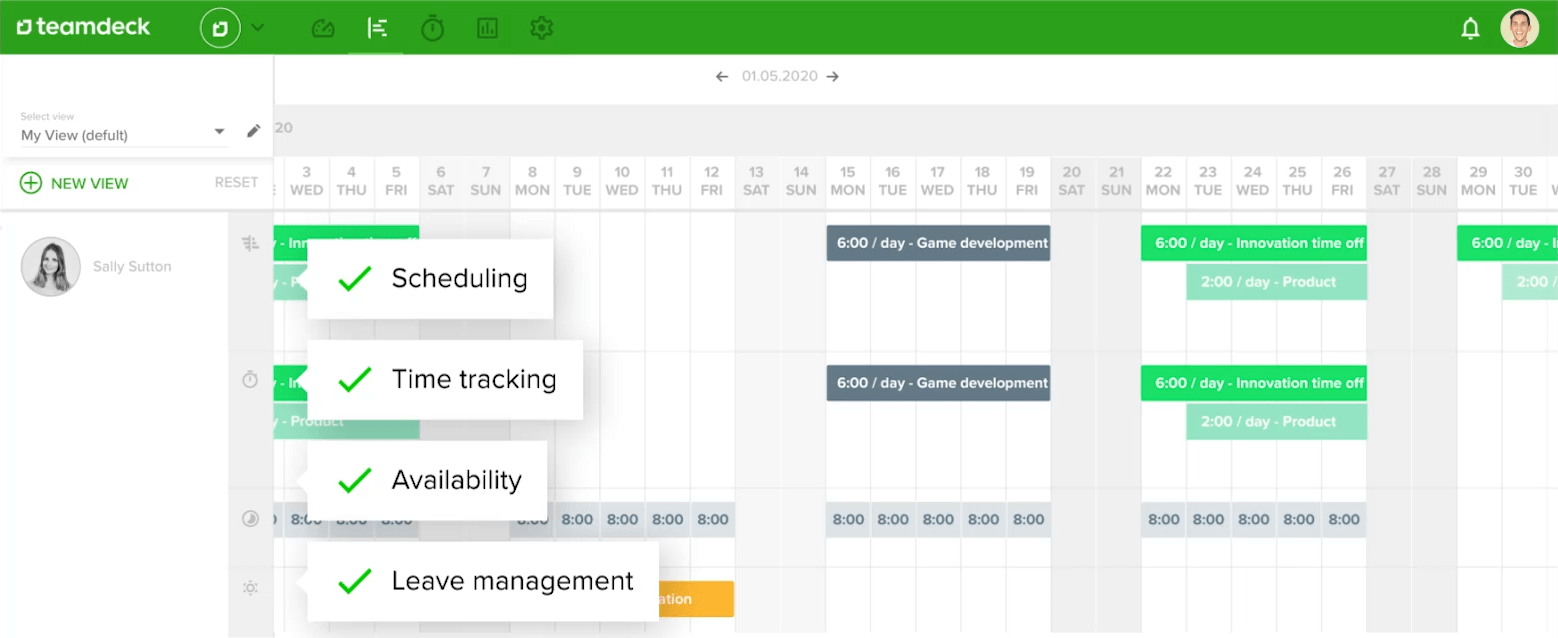 TeamDeck is a resource management tool that lets you effectively manage teams while successfully eliminating spreadsheets.
Resource Allocation
Employee Scheduling
Automatic time and leave tracking.
Flexible Planning and tracking.
Easy to use UI
Lets you compare Budget and Schedule Estimates vs the Actuals.
Pricing: Starts at $3.99 month/user with a free trial option available.
11.Comidware
Comidware is a workflow management software which lets you automize your tasks making it easier for you to concentrate on important tasks.
Key Features:
Full Process Automation.
Business analytics.
Enterprise system integration.
In-app collaboration
Pricing: Starts with $29.99 month/user.
12.Metatask
Metatask is a Workflow management tool which lets you streamline your work processes and helps you in improving team communication thus increasing response time.
Key Features:
Review documents, Quotes and proposals.
Dynamic tasks assignment
Create data forms to gather process-related data, files or documents
Pricing: Starts at $6 month/user.
13.Teamwork Projects
TeamWork is a project management software that has all the features you will need to collaborate effectively, hit deadlines and achieve high-performance results.
Key Features:
Customizable Dashboard for all users
Business process automation
Document Management
Reporting and Analytics for better assessment
Advanced privacy settings
Pricing: Starts with $9 month/user.
14.ProjectInsight
ProjectInsight is a work management software that maximizes user efficiencies by leveraging automation and data integration into their projects.
Key Features:
AI-assisted reminders for team members
Resource allocation made easy
User-friendly interface
Lots of 3rd party integrations
Pricing: From $30 month/user and for power users $65 month/user.
15.Zenhub
Zenhub is a project management solution which lets you generate automated reports, plan roadmaps and much more. It is the Project management tool built directly into GitHub.
Key Features:
Kanban board
GitHub integration
Milestone Tracking
Pricing: $5 month/user for a growth plan, $12.42 month/user for enterprise plan
16.Ravetree
Ravetree is a work management software built for the project-driven organizations in the fields of marketing, consulting, engineering and law firms.
Key Features:
Resource planning
Time and Expense Tracking
 Digital asset management
CRM
Pricing: Starts with $29 month/user when billed yearly.
17.ProductBoard
ProductBoard is a project management system that helps you understand what users need, prioritise what to build and rally everyone around your roadmap.
Key Features:
With Insight repository understands what users really need.
Make user insight an essential part of your plan
With Prioritization score stay on top of your game.
Identify top-rated features with impact score.
Pricing: Starts with $49 month for an individual plan.