New Projects Impact Analysis & Workload
---
Over the course of normal business, projects need to be properly re-evaluated for appropriate reprioritization. Often, at executive management directive, managers need to address an incoming high priority project request drop into the mix of pre-existing projects. This guide addresses how to:
Assess the impact of a new project on the existing resource workload,
Identify under-utilized or free resources,
Replace resources on tasks,
Shift out certain tasks to level out the workload,
If needed, shift out a low priority project completely to a later date.
Celoxis does not provide priority-based scheduling or automatic resource leveling.
Assessing Impact of New Project on Existing Workload
Create a new project state, say Requests (Top Menu ▸ ▸ Admin ▸ Project Management ▸ Project States). Keep this new state in "Planning" stage and disallow time. This helps keeping the new project requests separate from the regular projects.

Create a project for your new project request and keep it in "Requests" state (Click Top Menu ▸ ▸ Project ▸ New Project). Enter the planned start date for this project.

From the project's Interactive Gantt tab, define the WBS and resources. Since the project is in "Requests" state, it will not affect your existing workload.

Access the Resource Load (Main Menu ▸ Resource Load). By default, this view will show you pre-existing planned and active projects.

Edit Filters and Add "Requests" to the Project State Filter. Click on Apply. Now, your resource load view will immediately show you the impact that any new project requests will have on the existing mix and workload.

Because of the new project request, the impact on the existing workload is high and a lot of resources are overallocated.

You can download this view (Select "PDF" option from the top right button group) and send this to your executives to show the direct impact of the new requests on the existing mix of projects.
---
Identify Under-utilized or Free Resources
From the same Resource Load View, you can easily identify the under-utilized or free resources. These are the resources that are color-coded as blue.
The color-coding helps visually identify free resources without looking at each cell.
Replace Resources on Tasks
You can directly replace resources on problematic tasks (Mouseover the task in contention, and select the ▸ Edit Resources)
In the example below, you can Edit the "Survey commercial spaces" task and reassign it to Tanya who is relatively free in that period.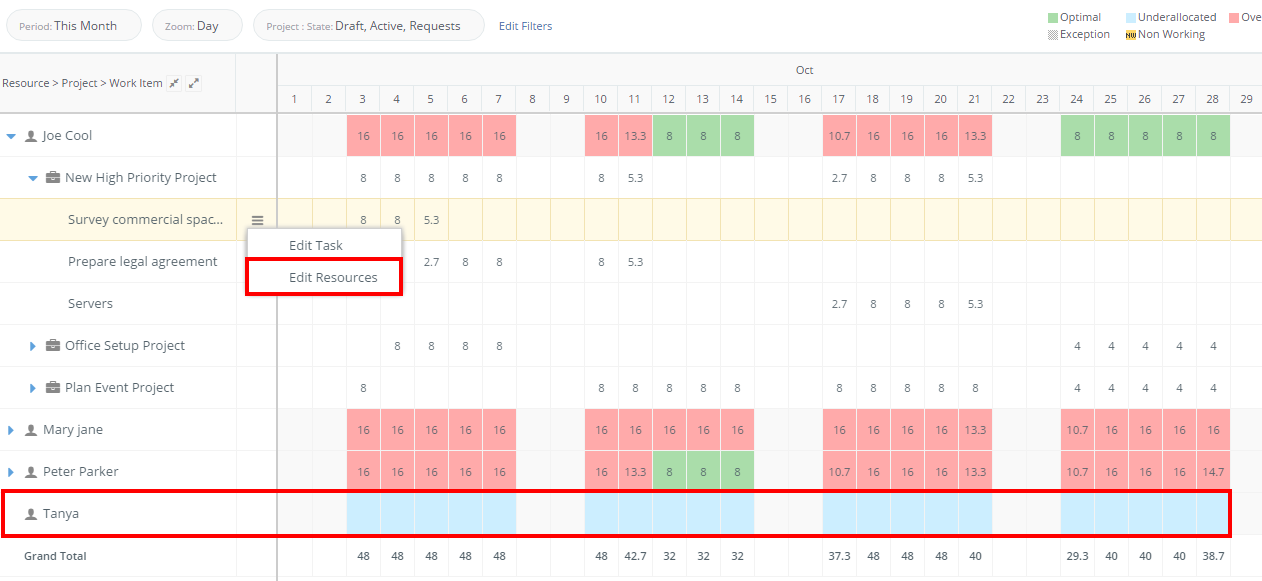 Shift out Tasks
There could be situations where free resources are not readily available. In such cases, you may need to shift out certain tasks that are of low priority and can be easily shifted out. To do this,
Mouse over the appropriate task.
Click on the 3-line menu.
Select Edit Task. Here you can change the task's start date to a later one.
---
Shift out Low Priority Projects
If you still have a resourcing issue, change the start date of the other low priority projects so that all other tasks in those projects are rescheduled. To do this,
Click on the project to open it in a new tab.
In the new tab, click on Edit (from the top right button group)
From the Edit Project pop up, change its Start Date. This will automatically shift all tasks (except any manually scheduled tasks) in perspective to the new start date.
---