Many Problems. One Solution.
---
Celoxis is a complete project management platform. You can manage projects, tasks, resources, risks, issues, timesheets, profits and collaboration from one solution. You don't have to jump through different tools to get things done. A single tool is more convenient, results in increased end-user adoption, has strong built-in integration which means more insight and not to forget – lower costs!
Dashboard
---
Get a consolidated view across projects and teams.
Customizable widgets and layouts
Presenting the most customizable dashboard in the project management industry. You can choose from our pre-created widgets or create your ow . The layout can be fully customized too, so you can view your data the way you want.
---
Drill-down charts
Our charts not only look good, they are functional too! You can drill-down to view the interesting items and even perform actions on them. You can act right from your dashboard. The example shows how a manager drills down from the pie chart and requests an update on tasks that are delayed.
---
Multiple dashboards per user
Every user can be assigned multiple dashboards helping them to stay organized and focussed. You can either use our pre-created dashboard or create your own. The example shows how a user switches from the Manager Dashboard to the What-if Analysis dashboard.
---
Role specific dashboards
Whether you are an executive, manager or a team member, you can have your very own dashboards. You can use our supplied dashboards or create your own from scratch.
Project Request Tracking
Collate project requests from various sources in one place. Sort requests based on your business KPIs. Easily match demand with capacity and choose projects that maximize business value.
Create from emails, forms or spreadsheets
Configurable ranking logic
Custom fields, workflow and KPIs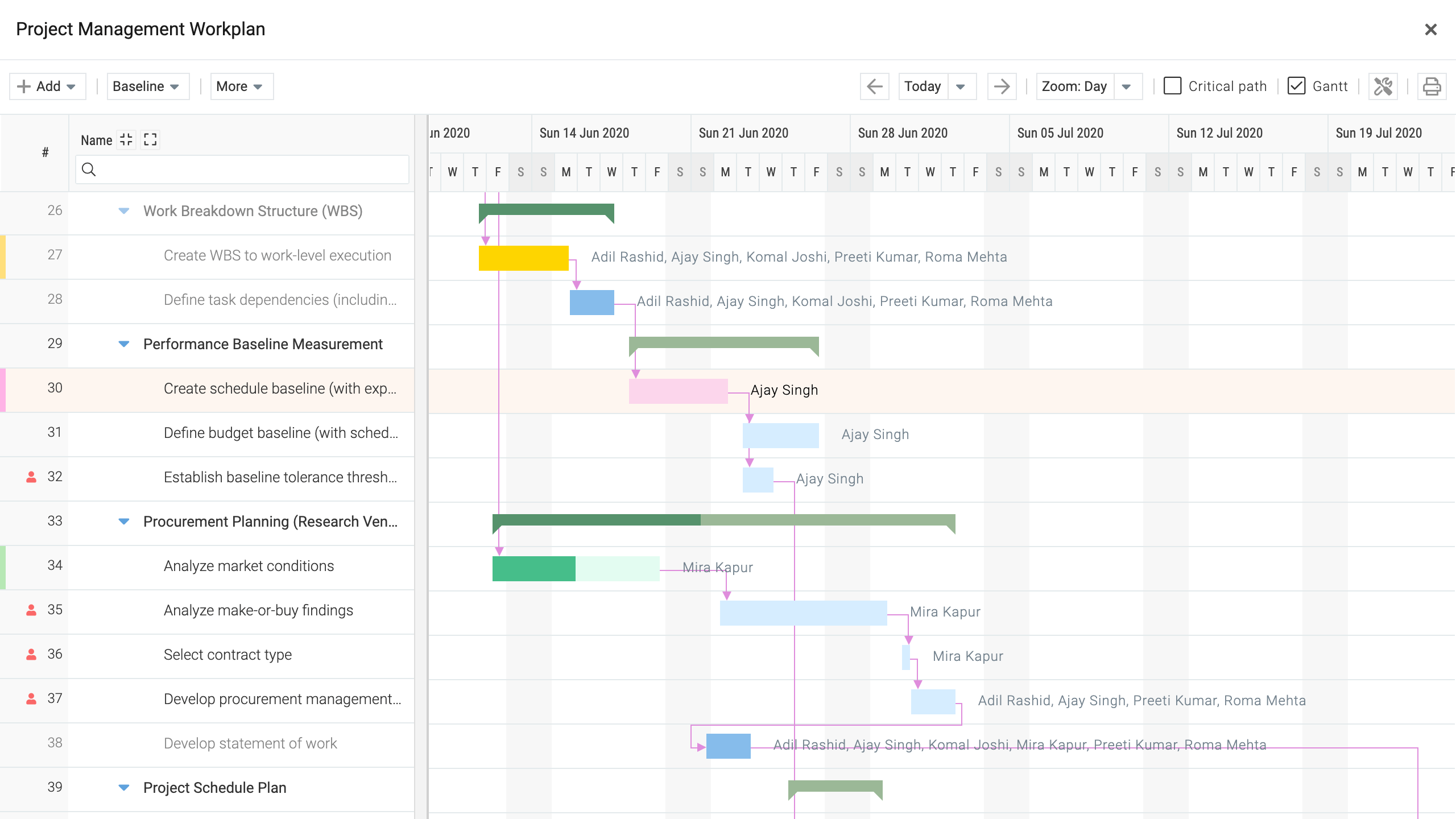 Project Planning
Build dynamic project plans that automatically adjust to changing real-world conditions using powerful planning and scheduling tools.
Automatic Scheduling
Inter-Project Dependencies
Multiple resources per task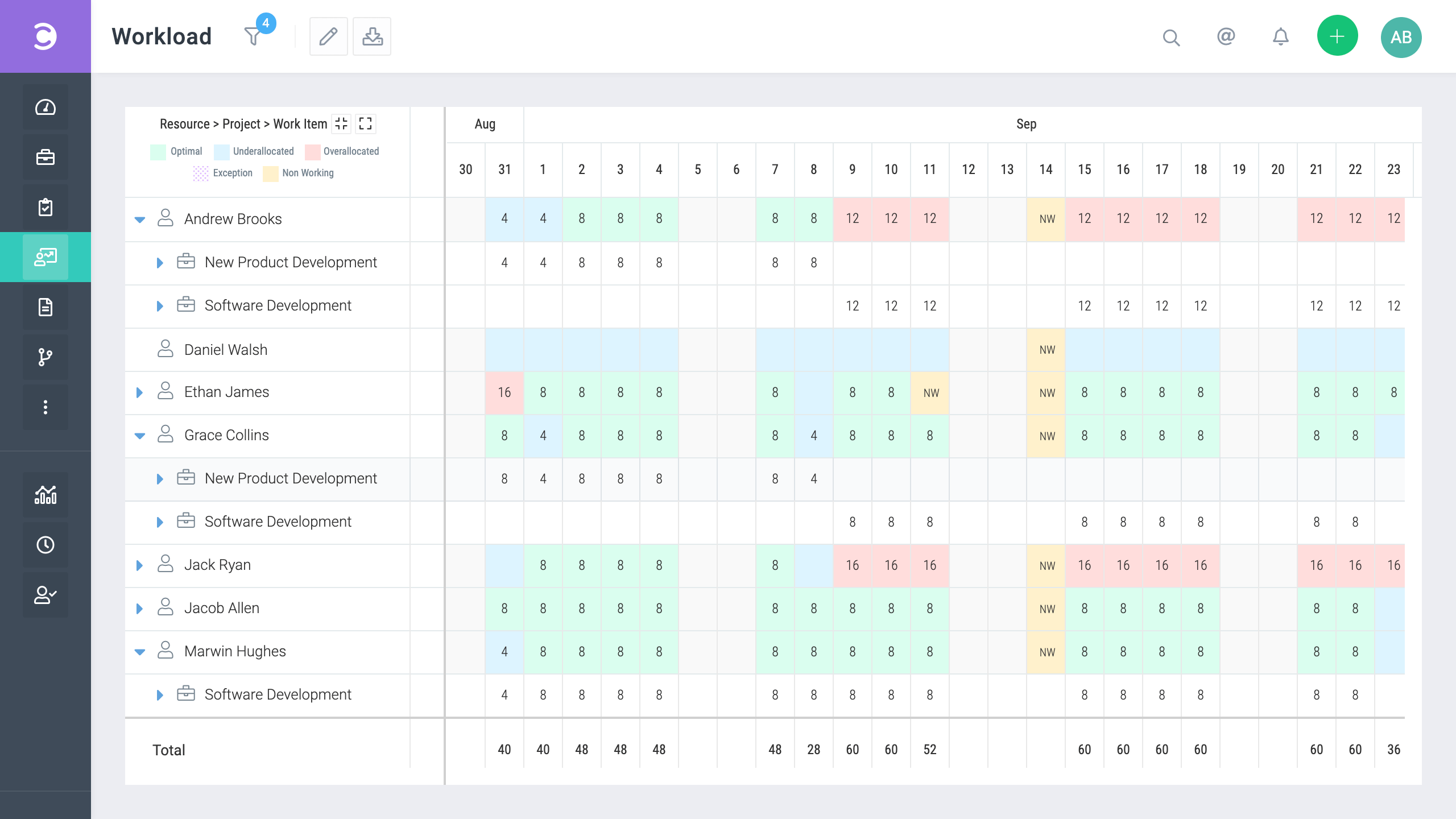 Resource Management
Easily allocate resources to tasks based on availability, demand and skills. Optimally utilize your workforce with accurate, real-time charts.
Location specific holidays, vacations & off-time
Capacity planning
Support for multiple shifts
Project Tracking
Address problems with milestones, tasks and projects without leaving your dashboard. Stay on top of your projects with automatic email alerts.
RAG health indicators
Critical path analysis
Baselines & EVA
Project Accounting
Get real-time visibility into budget spends, receivables and profitability across projects and portfolios.
Profit & Margin Tracking
Revenue Forecasting
Custom Financial KPIs
Portfolio Management
Get aggregated information about your projects with our fully customizable portfolio dashboards. Customize and track important portfolio KPIs with ease.
Team &amp Client Collaboration
Share files, discuss and exchange comments not just with your colleagues but with your clients as well. Our free and fully customizable client portals mean you save time and create an impression!
Files with Version Control
@Mentions & Notification Center